Bruised Shin From Dropping Table
by stacy
(new york)
I was having a party and had tables (seat 8-10) delivered to my house. The guy was supposed to set them up but just stacked them on top of each other.
I decided to set them up myself.
There were 6 tables. I took the first one off with help from my kids. The second one I tried to take off myself. It was extremely heavy and fell grazing my leg from knee to my foot.
The pain was like nothing I ever felt before.
I tried to ice it but it was too painful. I went by ambulance to the hospital-X-ray was normal. I was told to elevate it and I would feel better in 48 hours. This was almost 5 weeks ago!
It was terribly swollen and discolored. It seemed like it was starting to heal- but then the side of my foot turned purple also. That also went away.
Now I am left with swelling in the center of my shin and a knotty feeling going up to my knee (my knee is fine).
It often hurts and stings-especially at night.
I am concerened because I really do not see improvement day by day. Is it normal for swelling to last this long? What can I do? I am anemic and bruise easy which I know doesn't help.
Thanks for your time.
Stacy
----
Joshua Answers:
Hi Stacy.
"I would feel better in 48 hours." That was mighty optimistic of them....
So, some questions.
1. When the table hit your shin, did it just impact the whole thing, or did it drag/slide down the length of your lower leg?
2.
Is all the black and blue gone?
3. Is there now redness or discoloration with the swelling?
4. Is the swelling hard, like there's pressure from the inside?
5. Say more about 'I tried to ice it but it was too painful.'. Do you mean, it hurt so bad you gave up on ice and went to the ER?
6. Say more about 'knotty feeling going up to my knee'. Do you mean there is a knot all up your shin? Swellling? What does that mean, exactly?
I wouldn't worry about the part where the side of your foot went purple. That's just blood falling down with gravity.
Yes, it's normal for the shins to act like this. I don't know if it's good or bad, but it's certainly not great and it's better to deal with it quickly to help it get back to normal.
Answer the above questions, and we'll do that.
----------------------
Please reply using the comment link below. Do not submit a new submission to answer/reply, it's too hard for me to find where it's supposed to go.

And, comments have a 3,000 character limit so you may have to comment twice.
-----------------------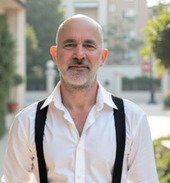 Joshua Tucker, B.A., C.M.T.
The Tendonitis Expert
www.TendonitisExpert.com