Day 12 - Tendonitis Expert's Review of His New Vibram Five Fingers KSO Barefoot Running Shoes
by The Tendonitis Expert
Ok, so remember how I said I was warned to take it easy, and do a little more and a little more at a time?
How I suggested that you do the same?
Yeah, well, apparently a 1.5 hour walk across San Francisco in the barefoots, followed by another 1.5 back in my regular shoes, was too much.
On the way there, I started to feel some strain and burn in my right lower leg, one of the peroneal's and/or something responsible for the toes.
I walked about 20 minutes like that, testing it out, trying to adjust my stride, figuring it would work itself out.
Then I changed shoes and walked back, with no discomfort.
The next day a little bit, and today two days later a LOT more, it feels like I strained something.
A couple specific little muscles in the lower leg are super tight and hurt all the way down into the tendon.
My right calf muscle is a little sore and strained too.
So it's a learning experience, breaking yourself into Vibram Five Finger barefoot shoes.
So I haven't been in my KSO's for a couple days, and I'll take another day off too, massaging my structures and such.
For the record, I don't blame this on the Fivefinger KSO's. They're just a little bit of protection against the dirt.
The real experience here is shifting to a barefoot walking dynamic, and the feet and lower legs (at the very least) have to work VERY differently than in regular shoes.
It's a process.
Take your time and break into it slowly!
----------------------
Please reply using the comment link below. Do not submit a new submission to answer/reply, it's too hard for me to find where it's supposed to go.

And, comments have a 3,000 character limit so you may have to comment twice.
-----------------------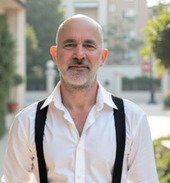 Joshua Tucker, B.A., C.M.T.
The Tendonitis Expert
www.TendonitisExpert.com