I Believe I Have Rotator Cuff Tendonitis but mostly referred pain in the arm. Where do I put the ice?
by Marianne Martin
(Northampton, UK)
I believe that I have rotator cuff tendonitis.
Most of the pain I feel is in the arm, in various places but mainly near the bottom of the bicep.
I am assuming inflamation of one or more rotator cuff tendons is impinging on a nerve so I feel it in the arm.
I have started to use ice this week, just frozen peas (not having any problems with smell). A friend recommended heat as well and Googling ice and hot I found your excellent site today, which has put more detail on how often to use the ice etc plus given me some tips for my partner who has trigger finger.
Where should I massage the ice if I feel no pain in the shoulder? You mention its hard to get at.
I have a steroid jab tomorrow. Could this actually delay my recovery or will it not do any harm.
I had a feeling it would not really help healing in the long run, but hoped if it would bring the inflamation down which would help the referred pain.
Is there somewhere I can read up about the biochemistry of how the ice works?
I am a yoga teacher and feel that this injury is teaching me a great deal that I can pass onto my students.
Thanks again for your site. I will pass on your web link.
Kind regards
marianne
----
Joshua Answers:
Hi Marianne.
As you commented, pain is a GREAT teacher. Or at least, if one is willing to look, pain can teach a lot.
I have learned a lot from each and every injury I have had. There's a whole world of inquiry and insight around pain and injury....
Anyway, back to you.
1. Why do you think you have
Shoulder Tendonitis
as opposed to Biceps Tendonitis?
2. Please
describe symptoms and locations in greater detail, as well as what hurts with what activities (or lack of activities).
3. How'd the
Corticosteroid Injection
go? Where exactly did the doctor inject you? And what were his/her reasons for that location?
4. When you poke around in your shoulder, can you find a painful or tender spot? You mentioned there was no pain when you were trying to ice. Again I wonder if you have biceps tendonitis instead of a shoulder issue.
5. Do you have a history of pain and/or injury?
6. Are you a hypermobile person? (can you touch your thumb to your forarm, when you straighten your arm, does the elbow bend past straight?)
7. How long have you been having this pain?
8. Vegetarian?
Thanks for passing my site on. I appreciate that.
Answer the above questions, and let's figure out what's up and how best to deal with it.
Tendonitis
no matter where it is in the body, consists of predictable factors and behaviors. So while there can be some figuring out to do, it's well within the realm of doable.
See:
What Is Tendonitis?
----------------------
Please reply using the comment link below. Do not submit a new submission to answer/reply, it's too hard for me to find where it's supposed to go.

And, comments have a 3,000 character limit so you may have to comment twice.
-----------------------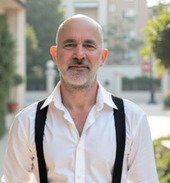 Joshua Tucker, B.A., C.M.T.
The Tendonitis Expert
www.TendonitisExpert.com