Is My Tendon Damage Pain Caused From Cipro?
by Michelle
(Cullman, AL)
I have severe non-stop neck and shoulder pain that started 2 weeks after starting cipro.


The pain is located only on the left side from the bottom of my hairline down about 4 or 5 inches and then the pain goes out toward the left about 6 inches.
I have had this pain since Feb constant throbbing.
It does not make the pain worse to move my arm,shoulder or neck in any direction or position. I also have humps and dips across my shoulder.
I have seen the chiropractor massage therapist physical, therapist accupuncture and trigger point injections
I have mentioned that i think it could be possible that Cipro did this damage to the 5 or 6 drs i have seen for this problem.
They all look and me like i'm crazy and act like that would not be likely. Well actually most of them have never heard there is a problem.
The urologist said drug companies just list everything that could possiblly happen.
I also wanted to mention i have been suffering since 03 from another pain in my left rib area for 6 years. i was surprised when i check my pharmacy record i had taken cipro the month before that pain had began.
Please let me know if you think that sounds like neck and shoulder pain that could have been caused by cipro.
Thank you Sincerely
Michelle
----
Joshua Answers:
Hi Michelle.
Sorry to hear you're having pain issues.
There's no way I can say for sure whether this is from Cipro or not.
One of the big clues, though, is the onset of pain directly after taking a fluoroquinolone like Cipro or Levaquin.
This pain can show up anywhere, and depending on the amount of damage it does, causes a
Process of Inflammation
.
On Doctors.....yeah, I hear you. I could
say a lot on that topic....little of it good.
When you say 'humps and dips' do you mean there is swelling, and the skin is kind of pitted? Meaning, it looks like you poked your finger in in a few places and the hole never filled in?
That was a good catch, by the way, no notice the correlation between earlier Cipro use and pain symptoms.
Tendonitis
by itself can be tough to deal with up in the shoulder area.
When the damage is from
Cipro
or
Levaquin
, it gets even tougher.
Hopefully you're in the category of people that hurt for a good long while, and then the pain goes away.
The other category at this point in time looks like 'permanent' damage.
I still believe that there is a cure out there, we just haven't found it.
You may be interested in taking the test as described on the
Levaquin Tendonitis Treatment
page.
Maybe I can help you identify the source.
Questions:
1. History of pain or injury in this area?
2. History of car accident or falling down the stairs or similar impact accident?
3. Daily activity, like work or exercise, that you have done regularly over time. This includes recent changes of routine.
4. Age?
5. Overall health?
6.Why did you take the Cipro?
Answer those questions, that will give me a more clear picture.
----------------------
Please reply using the comment link below. Do not submit a new submission to answer/reply, it's too hard for me to find where it's supposed to go.

And, comments have a 3,000 character limit so you may have to comment twice.
-----------------------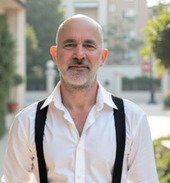 Joshua Tucker, B.A., C.M.T.
The Tendonitis Expert
www.TendonitisExpert.com