Knee Pain, bone on bone, can't straighten the knee
by Phyllis
(United Kingdom)
I have suffered knee pain for about 7 months now, it started as a dull ache and now is very painful across the back of the knee joint and down the back of my leg.
I was diagnosed with onset rheumatoid arthritis in 2000 but have had no pain as such with that so dont think it is that.
I used to go walking and have not had an accident to bring on this pain, I get sharp pain across my knee and up and down my leg if I jar it, which makes me nearly pass out its as if its bone against bone.
I have been to the doctor who has put me on co-codamol 30/500 4 times a day but they dont work I am using a stick and find it very difficult to walk. I can bend my knee but cannot straighten it.
I can also not kneel on it, sometime its feels as if my leg is going to give way under me.
Do you think that this ice dipping would work on my knee?
----
Joshua Answers:
Hi Phyllis. That sounds like some not fun pain...
Let's see what we can do.
The answer to your question is: Ice Dipping helps -everything-.
Yes it will help, because while you may or may not have
Tendonitis
, you absolutely have
Process of Inflammation
.
And, I
need more info to get a more clear picture of what you have going on.
1. How old are you?
2. Any previous knee injury or pain?
3. Overall health? Osteoporosis? Heart medications?
4. Describe the pain in the knee in more detail, and in more exact location.
5. Describe the pain behind the knee in more detail, and in more exact location.
6. What exactly do you mean when you say you can't straighten your knee.
7. Is it bone on bone? Or does it just feel that way. And where exactly does it feel like that. All the way through, just in one spot?
Let's start with those questions and go from there.
----------------------
Please reply using the comment link below. Do not submit a new submission to answer/reply, it's too hard for me to find where it's supposed to go.

And, comments have a 3,000 character limit so you may have to comment twice.
-----------------------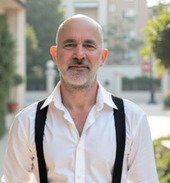 Joshua Tucker, B.A., C.M.T.
The Tendonitis Expert
www.TendonitisExpert.com