Plantar Fasciitis surgery, pain returned, second surgery and now have numb toes
I had my plantar fasciitis surgery and about a year later it was back. Had 2nd surgery and now have a huge scar on the bottom of my foot that hurts and numb toes. I know I need to go back to the doctor but its expensive even with insurance.


----
Joshua Comments:
Thanks for sharing.
Sorry the surgeries didn't work out as you wanted them to.....
Did you have the second plantar fasciitis surgery on the same foot, or a different foot?
It sounds like the tendonitis mechanism that was already in place was made worse by the foot surgery. And hopefully the numbness is from compression from inflammation and tissue pulling back together/tightening as it 'heals' the surgery wounds. and not surgery cutting the nerve(s).
See:
Pain Causing Dynamic
----------------------
Please reply using the comment link below. Do not submit a new submission to answer/reply, it's too hard for me to find where it's supposed to go.

And, comments have a 3,000 character limit so you may have to comment twice.
-----------------------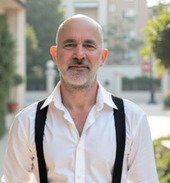 Joshua Tucker, B.A., C.M.T.
The Tendonitis Expert
www.TendonitisExpert.com