Still haven't fully recovered from Ruptured Achilles Tendon Surgery after 3 years
by Gabe
(Beaumont, Ca.)
There I was, a 26 year old athletic man playing recretional football with my police buddies when suddenly, my left achillies tendon ruptures completely sending a sharp pain down my leg. I hit the ground in agonizing pain praying it was not somthing serious.


So I drive myself to the E.R(yes I drove alone) to have "Doggie Howser" tell me I need surgery.
Like every other obstacles thrown before me, I manage to move on with ease. However, 3 years later and now 29 going on 30, my leg has yet to fully recover. I excersise 3-4 times a week and I eat as healthy as I can. So what I am doing wrong?
I hear stories how some have recovered in less than a year and others in about 1 1/2 years, but 3 years??? I need some insight to help me get through this. I'm still very active but I'm worried I'll never fully recover.
----
Joshua Answers:
Hi Gabe.
I don't know that you're doing anything wrong, per se.
But it's a false expectation that time heals all wounds. We're conditioned to think that for some reason, maybe it's just part of human nature to expect that.
There are a lot of variables involved with Tendonitis and
Achilles Tendon Rupture
and Achilles surgery, of course, but in short:
A. Your achilles ruptured for a reason. It wasn't an out-of-the-blue event, even though it occured that way. Factor had been building up to that point.
B. The Achilles tendon reattachment surgery essentially shortened an already too short structure. That doesn't just magically go away.
Can it be made to go away?
Yes, absolutely.
It's all about the answer to this question:
What Is Tendonitis
?
When you understand how tendonitis works, it starts to make a lot more sense.
It doesn't matter if you play football or basketball or ski or jump rope competitively or or or.
Achilles Tendonitis
is no different than any other tendonitis, aside from the specific variables of it's location.
So. You already had
Process of Inflammation
and TOO TIGHT muscles and connective tissue, which means that your muscles weren't working optimally, so they weren't absorbing force like they're supposed to, and all that force had to go SOMEWHERE. It went to the spot where the Achilles tendon then failed.
Then you had surgery, tissue was cut into and reconnected. When the body heals, scar tissue literally pulls everything closer together. Plus the surgeon may have had to shave off the ends of the Achilles to make the ends clean, thus shortening the tendon.
Then you were put into a cast and immobilized. When the body gets immobilized it shortens and shrinkwraps.
So to get back to full range and full strength etc, you have to reverse all that. Make muscle structures looser, more open, with more length, etc. There's also some nervous system retrain that we strive to cause, since is sends the controlling signals.
It's totally doable, reversible. It's just a matter of time and the RIGHT effort.
Having said that,
Rest
, time off, and waiting for it to heal is incredibly likely not to give you the results you really want.
My suggestions:
1. Cheap and effective: my
Reversing Achilles Tendonitis ebook
. It all applies to your situation.
2. Less cheap and more effective:
The ARPwave System
. HIGHLY recommended, depending on how motivated you are.
----------------------
Please reply using the comment link below. Do not submit a new submission to answer/reply, it's too hard for me to find where it's supposed to go.

And, comments have a 3,000 character limit so you may have to comment twice.
-----------------------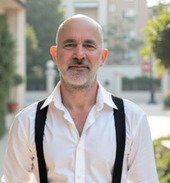 Joshua Tucker, B.A., C.M.T.
The Tendonitis Expert
www.TendonitisExpert.com