Sudden wrist pain from playing guitar and lifting weights, I'm 26 and worried
by Greg
(New York)
My right wrist hurts dead center in the middle, the left wrist hurts on the left side where it meets my hand under the pinky.
The tendons on my left forearm feels stiff inside and the bone hurts when I press in on a countertop or hard surface.
I have never had any wrist problems before.
I was lifting weights regularly (4 times a week) and unloading trucks at work and play guitar for fun.
I am only 26 years old and a little worried. The pain is not constant and usually only starts when I attempt to move something heavy.
----
Joshua Answers:
Hey Greg.
Yep, nothing like playing guitar....and doing weights, and lifting heavy things, etc.
I'm a bit short for time so I'm going to throw this out quick.
Respond back with more questions and I'll have more time for answers.
1. Learn
How To Reduce Inflammation
. Do it A LOT, more than the 10 I describe, for a week or so.
2. Up your Magnesium levels after reading this
Magnesium for Tendonitis
page and this
Magnesium Dosage
page.
3.
Bone Broth as the best Tendon Supplements
. Using a pressure cooker drops the cook time down by a big factor.
And, make sure you are getting enough good fats in your diet. And drink more water.
4. You may find it worth it to get
'The

Tennis Elbow Treatment That Works'
.
That's the best DVD I have to offer you right now, and it's a basis we can work from to get you out of pain, and for you to keep yourself out of pain the rest of your life too.
(And, I think nutrition is playing a role here. Definitely do the bone broth, magnesium, and might as well increase your protein intake too.)
That's the quick shot for dealing with your
Tendonitis
dynamic. Whether you actually have any tendon damage or not I don't know, but you definitely have chronic tightness and irritation.
And it's predictably that it is going to get worse if left to it's own devices.
----------------------
Please reply using the comment link below. Do not submit a new submission to answer/reply, it's too hard for me to find where it's supposed to go.

And, comments have a 3,000 character limit so you may have to comment twice.
-----------------------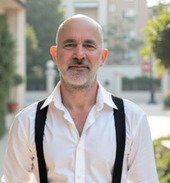 Joshua Tucker, B.A., C.M.T.
The Tendonitis Expert
www.TendonitisExpert.com