Tendonitis due to Cipro?
by HopeinHEaling
(la, ca )
Hi.


I never had tendon problems or really joint pain before I took Cipro.
Do these remedies also help people who have taken Cipro and have gotten this as result of taking Cipro as opposed to years of running and tennis and what they say normally causes this.
Please let me know the protocal for people who are suffering because of Cipro or any other floxy.
A lot of us are suffering since taking that drug and want to know what we can do to stop this posion.
----
Joshua Answers:
Hi HopeinHealing.
I'm sorry to hear you're suffering the downsides of having taken the quinolone Cipro.
Everything I've seen out there points to that 'you're screwed'.
I'm not a big fan of that mindset.
So let me talk a little bit, and I'll answer your questions in there somewhere.
It appears that the duration of poisoning from quinolones like Cipro and Levaquin is short term, but the actual damaging mechanism stays in place.
The prevalent theory is that the antibiotic damages the tendon at the DNA level, meaning that as tendon cells naturally die and get replaced, the new cells are born damaged.
This explains why pain and problem can last for so long.
Maybe this is true. If it is true, maybe the DNA damage is permanent (forever) or maybe it just takes a LONG time to move all the bad cells out, go through enough generations of replications before healthy cells get produced again.
There's a lot of maybe in there.
So I'm not offering a 'cure', and I hope my page doesn't give that impression.
And, it's safe to say, that if a person wants the best chances to heal from and overcome
Tendonitis
from Cipro, such a person wants to do everything they can to help their chances.
This is where the remedies you are talking about come in. Yes, I believe they will help, to some degree. Maybe just pain relief. Maybe more.
1. Vitamin D
As a nation, we are pretty much all Vitamin D deficient. We cover up, wear sunblock, and stay inside. Doctors tell us that the sun is bad. (THe same doctors that tell us Cipro is good.)
Vitamin D is a hormone. It is a precursor to hormone production. It is vital to a host of other physical process and mechanism.
Symptoms of Vitamin D deficiency include random pain, tendonitis symptoms, diabetic symptoms, heart problems in children and adults, etc.
Vitamin D is important for -everything-. It's pretty crazy when you start looking into it. If you want healthy cells and healthy cell production, get your vitamin D levels up.
2. Magnesium
Magnesium, among other things, relaxes muscles. If you have tendon pain and tendon inflammation, you are getting constant signal to tighten up your muscles to 'guard' you against more pain.
This puts more constant tension on an unhappy tendon, which then sends more signal that causes more tightness.
Tight muscles burn through Calcium and Magnesium. Deficiency in these equals...you guessed it...muscle tightness. And spasm, and pain.
If any quinolone remains in the tendon, magnesium bonds with it and can leech it from the tendon. It is debatable whether
any quinolone remains in the tendon, researchers say it doesn't.
It's not going to hurt anything to keep your magnesium levels high. It's good for you. Period.
3. Bone Broth
This is vital nutrition we don't get in the normal western diet anymore.
High in collagen (which you need to repair joints anyway), glucosamine, chondroitin, various minerals including magnesium, and a variety of other things that are good for your body.
Specifically, it's everything good for your tendons and connective tissue. I can't stress the benefits of home made
Bone Broth
enough.
4. Icing
I don't remember if Icing is on the page you're talking about. If it's not, I need to add it.
Chronic acute inflammation is in place where the tendon has damage.
Inflammation
releases pain enhancing chemical.
This has you hurt. If you keep the chemical out, you will have less pain.
Also, tendonitis is all about insufficient blood delivery to the tendon. More blood equals faster healing.
Icing will lower pain levels and help the tendon heal faster, as best it can anyway.
5. Miscellaneous
Lots of water. Cut out sugar. Increase your protein intake. Keep your body moving, even gently.
Conceptually, maybe this isn't a cure, maybe it can't cure it. But I believe we have to try. Dpending on your exact situation, it just may be what is needed to at least lower your pain levels.
And if we're going to try, then we need to do everything we can to help our body fight off an invader and heal.
Give your body everything it needs.
And, research being what research is, as a nation we're relatively nutrient deficient and generally unhealthy.
So 'there is no cure' is coming from research on people not in optimal health.
-MAYBE- if we support our bodies, give it everything it needs, just maybe that will help the tendon heal faster than it gets hurt.
Maybe we can overwhelm the Downward Spiral of pain and problem mechanism by bolstering our bodies ability to heal.
If it is a DNA problem, it is possible that cells will -never- be born healthy again.
In this case, the best we can do is reduce pain. The remedies above can certainly help with that.
And, it's possible to make the body healthy enough such that eventually, the bad DVA cells will phase out and healthy DNA cells will repopulate the area, and then the tendon can heal.
Does that answer your question(s)?
----------------------
Please reply using the comment link below. Do not submit a new submission to answer/reply, it's too hard for me to find where it's supposed to go.

And, comments have a 3,000 character limit so you may have to comment twice.
-----------------------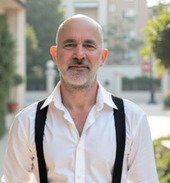 Joshua Tucker, B.A., C.M.T.
The Tendonitis Expert
www.TendonitisExpert.com