Tendonitis? I'm unsure. Elbow pain, wrist pain, and numbness
by Jessie
Hello, I am not sure what I have but these are the symptoms: my right arm forearm muscles becomes tight and aches sometimes. This has been happening for over six months on and off.


I have felt sharp pains in the wrist of both arms. Once two weeks ago in the left elbow and once in the right elbow. My fingers in the right hand become numb sometimes, and the wrist becomes sore.
I am not sure what it is. Can you please advise?
----
Joshua Answers:
Hello Jessie.
I need some more information, but it sounds like you have a
Pain Causing Dynamic
happening.
Could be some Carpal Tunnel Dynamic, could be some Wrist Tendonitis dynamic, could be some Tennis Elbow dynamic, could be some Thoracic Outlet Syndrome.
They all share the same dynamic, really, it's just a matter of where it shows up in your body. Some people have pain and/or Tendonitis is one spot, some people have Tendonitis symptoms in several locations.
It depends on your body, and how you use your body.
Increasing tightness comes and goes, then increasing pain comes and goes, and numbness adds in eventually.
It sounds like you have tight muscles and bad posture stepping on the hose of the nerve up at your neck/front of chest, and overuse issues in your lower arms.
That's pretty much how it goes for everybody, though it always looks
a little different as far as when where and how.
Predictably, if you keep doing what you've been doing, it will 'get worse'.
Now, it's just a matter of reversing the dynamic.
So, to help identify exactly what is going on....
1. How long has this been going on? 6 months, you say?
2. What do you do for work and play. I'm looking for what activities and posture you are in most of the time.
3. What have you done for this so far? What has helped, what hasn't?
4. How old are you?
5. General state of health?
6. History of whiplash or head trauma? (falling off a horse, boxing, etc) Any other injury?
The more details, the better.
----------------------
Please reply using the comment link below. Do not submit a new submission to answer/reply, it's too hard for me to find where it's supposed to go.

And, comments have a 3,000 character limit so you may have to comment twice.
-----------------------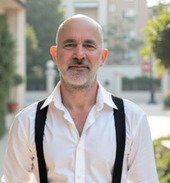 Joshua Tucker, B.A., C.M.T.
The Tendonitis Expert
www.TendonitisExpert.com