Tendonitis pains in my wrists and arms since I was pregnant
by melanie h
(liverpool england)
Hi, i've been having pains in my wrists and arms now since i was pregnant with my baby, it started when i was around 28 wks, he's five months now and i sometimes cry with the pain, there are so many things i cant do.


I've been to my GP who sent me for X-rays and Blood test, my bloods came back normal and they said the joints around my wrists are dense and see-through, he suggested i had Tendonitis!
He's sending me for physio and said i might need injections. I told him my job is manual and am always using my hand am back off maternity soon and the thought of going back to work and being in pain terrifys me.
I am restricted as to what i can do with my baby.
Do you think this problem will become worse if i go back to work? and where do i stand if i decide not to go back?
Will i been entitled to any benifits?
----
Joshua Answers:
Hi Melanie.
I'm pretty confident that the pain will likely get worse if you go back to work. It certainly won't get better, predictably.
Let me rephrase that. I'm ABSOLUTELY confident that if you don't do anything to successfully reverse your pain dynamic, it's not going to get better any time soon.
I'm also confident that
Corticosteroid Injections
won't do much good for you.
Probably you don't have classic
Tendonitis
, but it's safe to say you have some combination of the factors of Carpal Tunnel and
Pregnancy Carpal Tunnel
.
See:
What Is Tendonitis?
Hormones,
water retention, nutritional deficiency, change in posture that affects the nerve down the arm, and then suddenly having to carry a heavy bowling ball with you everywhere you go.
As far as benefits, I have NO idea about that, and even less idea about how things work in England.
You're going to have to get to work on this if you want to decrease your pain levels.
I suggest you get my
Reversing Wrist Tendonitis program
. It has the bulk of what you need to know and do.
Also, TODAY, you need to go get your Vitamin D level checked. You may have to make your doctor order the test. Then get your levels up between 50-80 with Vitamin D3. As soon as possible.
Also, I highly suggest that you start supplementing with
Magnesium for Tendonitis
, including topical application with this product or something like it:
Transdermal Magnesium Gel
More questions, more answers.
----------------------
Please reply using the comment link below. Do not submit a new submission to answer/reply, it's too hard for me to find where it's supposed to go.

And, comments have a 3,000 character limit so you may have to comment twice.
-----------------------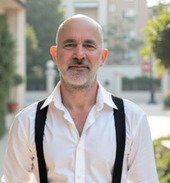 Joshua Tucker, B.A., C.M.T.
The Tendonitis Expert
www.TendonitisExpert.com