Tendonitis pain in fingers, wrist, arm and neck with a 6 months old baby
by carmen
(brampton, canada)
I have a six month old baby and 5 months ago started to feel light painful sensations in my left shoulder, near the armpit.
Didn't pay much attention. Some time after started to feel some pain in my left wrist when bending it, with a little lump... still ignored it.
Soon after another symptom developed, numbness and pain in my middle and index finger. Kept doing my chores around the house the same way and taking care of the baby who is breastfed and still waking in the middle of the night so I was doing a lot of lifting with my left arm.
The pain spread to the arm, shoulder and neck so I went to my physician who prescribed celebrex and a full massage therapy. Needless to say that I got worse from the massage. I have excruciating pain that not even the anti-inflammatory can relieve now...
Could this be tendonitis from constant lifting and holding the baby? What treatments could work? I feel I am not able to take care of myself and the baby...
----
Joshua Answers:
Hi Carman.
1. It could be Tendonitis, but at this point I think it's more the irritation kind than the damage kind.
There Are Two Types Of Tendonitis
.
2. Say more about the lump.
3. What did you do with your hands/arms pre-pregnancy, job and/or activity wise?
4. Pregnancy take a lot out of you nutritionally.
Vitamin D deficiency could be playing a role. Get your levels checked ASAP. (Pretty much everybody is deficient, especially with you being in Canada. And sufficient Vit D is VITAL for babies and lifetime health. I can't tell you to take Vit D legally, but please do go get your levels checked!)
Were I you
I would supplement with Vit B6 and B12 (mehtylcobalamin, not cyanocobalamin).
Inflammation Causes Vitamin B6 Deficiency
.
Were I you I would supplement with Magnesium. Magnesium is a huge player in chronic and acute muscle pain, spasm, etc. This
Magnesium Dosage
page has important info you will want to know on what kind and how much.
If you have pain from nutrient deficiency, massage nor painkillers won't help much if at all.
You may want to cover your bases with the above nutrition
4. Describe the massage. What did they do? Did it hurt at the time? Etc.
All of a sudden starting to carry around a bowling ball in your left arm could certainly irritate any number of dynamics that were just waiting to happen.
You'll want to do some strength training to support your body's abillity to heft weight around all day long. But first things first, first we need to calm down the acute pain dynamic.
Nutrition. Carry the baby around in the other arm. Answer the above questions. And we'll go from there.
----------------------
Please reply using the comment link below. Do not submit a new submission to answer/reply, it's too hard for me to find where it's supposed to go.

And, comments have a 3,000 character limit so you may have to comment twice.
-----------------------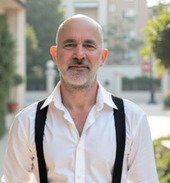 Joshua Tucker, B.A., C.M.T.
The Tendonitis Expert
www.TendonitisExpert.com