Trigger Thumb in Left Hand. Could It Be From Carpal Tunnel Surgery?
by Michael
(Brazil)
I have recently developed trigger thumb in my left hand, I am right handed.


My family doctor thinks it may be a flare up of gout.
I have taken 2 meds but to no avail.
Can you advise and could this be related to carpal tunnel surgery? I had it on both hands about 5 years ago.
thanks
----
Joshua Answers:
Hi Michael.
Why does your doctor think that you have gout?? are your hand/thumb joints red, swollen, painful, etc? Did it come on suddenly?
Here's a diagnostic tool for you. Go buy a bottle of real cherry juice. Drink it over a few days/a week. If that doesn't make it go away, it's (probably) not gout.
If it's
Trigger Finger and/or Trigger Thumb
, then that's a different ballgame.
And that can totally be related to Carpal Tunnel surgery.
Carpal Tunnel and
Tendonitis
share a dynamic of tight muscles and constrictive connective tissue.
Cutting in there causes scar tissue and more constriction and the scar tissue binds and pulls injured tissues together.
Surgery does not fix the
Pain Causing Dynamic
.
And surgery certainly didn't eradicate the REASON you had carpal tunnel in both sides. Surgeyr is not a fix for carpal tunnel since it doesn't REVERSE the
Carpal Tunnel Syndrome
dynamic.
----------------------
Please reply using the comment link below. Do not submit a new submission to answer/reply, it's too hard for me to find where it's supposed to go.

And, comments have a 3,000 character limit so you may have to comment twice.
-----------------------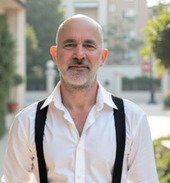 Joshua Tucker, B.A., C.M.T.
The Tendonitis Expert
www.TendonitisExpert.com