What's Wrong With My Wrist?
I have very small wrists that have always been weak and have always made crunching and cracking noises when I move them. I get on and off again pain that is pretty unbearable and alternates between my left wrist and my right wrist.


My left wrist has been hurting nonstop for about 2-3 weeks now (which is typical). The wrist aches constantly, but gets sharp pains when my wrist is not at a perfectly straight position or when I touch it.
If it helps to know some background info: I am a 24 year-old female. This pain has existed off and on for around 15-20 years. I have TMJ in my jaw (diagnosed when I was about 15) and it feels similar to my wrists; it is the same type of pain that gets better and worse with use and weather changes. My grandmother also has very severe Rheumatoid Arthritis.
----
Joshua Answers:
Hello there. I need some more information, but just from what you've said so far, I suspect that a certain portion of your pain in nutritional deficiency in nature.
There may be something structural in your wrists that gives you a tendency for this, but with clues like the TMJ and such, possibly it a
Tendonitis
....we'll see.
See:
What Is Tendonitis?
Included with that, I have a hunch that your Grandmother may provide a clue to.
So let's investigate.
Questions:
1. How long has the wrist pain been going on? You said 2-3 weeks of pain is typical.
2. What do you do with your hands, job or activity wise?
3. Say more about your TMJ.
4. Say more about your wrists, and describe the pain and symptoms. What makes it worse, what makes it better.
5. How's your digestion?
6. How's your overall health? Food allergies?
----------------------
Please reply using the comment link below. Do not submit a new submission to answer/reply, it's too hard for me to find where it's supposed to go.

And, comments have a 3,000 character limit so you may have to comment twice.
-----------------------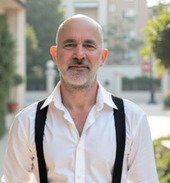 Joshua Tucker, B.A., C.M.T.
The Tendonitis Expert
www.TendonitisExpert.com