Why Only "5 to 10 second" Ice baths for "Tennis Elbow"?
by Vic
(Canada)
Hi I have what I assume is tennis elbow, had it on and off for 10 years. Was a bit lazy in treating it, and now it has reappeared. (I also have pain from playing guitar at the top of the forearm towards elbow).


My question is why only 5 to 10 second icebaths?
Why not 15 or 30 second? Why not a minute or two minutes?
I can tolerate the coldness no problem, so am wondering why you only recommend a few seconds at a time?
----
Joshua Answers:
Hi Vic.
Regardless of whether one has pain from
Tendonitis
, bruising, soreness after working out, etc, Ice Dipping as described on the
How To Reduce Inflammation
page, is a highly effective way to reduce inflammation, pain, and related symptoms.
See:
What Is Tendonitis?
Why just 10 seconds as opposed to minutes?
Let's look at how the body works.
Every artery is surrounded by a little bit of muscle. Muscle contracts when cold is applied, it's an involuntary reflex.
When you ice dip, muscles contract and, basically, the sponge squeezes itself. Old stuff out, new stuff in.
Cold, in and of itself, isn't what makes a difference. It's how the body responds to cold that causes benefit.
If you ice dip, say, your hand and forearm for 10 seconds, your system responds, and you get a 'squeeze'.
If you then leave your arm in for another ten minutes, you still only got the one
squeeze, and you basically wasted 9.5 minutes.
Then you take your arm out, and the body overcompensates and pushes a lot of new blood in.
The difference between 5, 10, 20, maybe even 30 seconds isn't that critical. You just want to get a sense for how much your body responds.
Maybe you need 20-30 seconds to get a good squeeze. Maybe it just needs 5-10...it depends on how your circulatory system works, and how it works with cold.
10 seconds is the most bang for the most people. The important part is doing it, not whether it's exactly 10 seconds, or 12, or 15.
But a minute or more...in my humble opinion it loses effectiveness. I'd rather dip 10 times for 10 seconds than once for 2 minutes.
Make sense?
----------------------
Please reply using the comment link below. Do not submit a new submission to answer/reply, it's too hard for me to find where it's supposed to go.

And, comments have a 3,000 character limit so you may have to comment twice.
-----------------------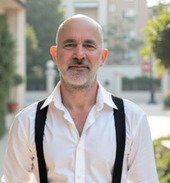 Joshua Tucker, B.A., C.M.T.
The Tendonitis Expert
www.TendonitisExpert.com