Classical Guitar and Index finger impairment loss of dexterity
by Richard
(Wales, UK)
I play classical guitar and have been experiencing loss of dexterity for about 4 months. The problem is that fine motor control of the right hand index finger is impaired so that I have difficulty playing scales with the i m i fingering, and descending arpeggios. If I play a rag-time style accompaniment, the index finger doesn't quite obey in time and garbles my playing, although I can just about do it if I slow down.


There is no index finger or hand pain at all, but that is not the full picture. I have a chronic but slightly elusive forearm or arm strain of some kind - sometimes brought on by grabbing or holding an object, and especially when flexing the arm slightly off straight and against resistance - a bit like golfer's elbow.
I have identified two slightly tender areas. One is on upper side of the forearm, half way down from the elbow, but seemingly fairly "deep." This is the area in which, for a couple of years, I would feel pain in my daily practice when trying to play fast repetitive rest stroke excercises. I have been putting ice on this area daily for a while.
For whatever reason, the skin of the forearm in that area now has a permanent numbness.
The other tender area is on the underside of the forearm. If I flex the index finger and pinch my right forearm with my thumb on the underside about quarter of the way up from the wrist, there is a mild ache again fairly "deep" in the forearm.
I still play, but I'm trying to find a remedy.
----
Joshua Answers:
Hi Richard.
1. What have you tried so far, as far as self care goes?
2. 4 months ago, did this come on fast, or slow?
3. Any history of anything like this previously?
4. History of car accident, boxing,
falling off a horse/down the stairs, etc? Injury?
5. No pain, that's good.
6. What's your Vitamin D level? Get it checked, asap. One of the symptoms of Vitamin D deficiency is reduced dexterity, muscle function, nerve function, balance, etc. Probably not the ONLY factor involved, but it may or may not be a sizeable factor.
7. Spots of tenderness, that makes sense. The tighter a muscle is, and the longer it's tight, the more tender it gets and the less optimally it function.
That's part of the whole
Pain Causing Dynamic
.
8.
Tendonitis
is a -dynamic-. It can look like a lot of different things, and it can change quickly or slowly over time.
See:
What Is Tendonitis
9. At this point, it doesn't sound particularly hard to get rid of/reverse. It would be useful to learn how to make this pain go away, as that will be a skill you can use through the rest of your life/playing career.
10. I of course suggest my
Reversing Guitar Tendonitis ebook
, as it has a complete explanation and plan of attack.
11. Short of getting that, I'd definitely learn
Process of Inflammation
and See:
Magnesium for Tendonitis
More questions, more answers
----------------------
Please reply using the comment link below. Do not submit a new submission to answer/reply, it's too hard for me to find where it's supposed to go.

And, comments have a 3,000 character limit so you may have to comment twice.
-----------------------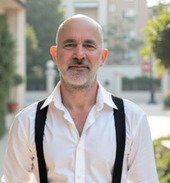 Joshua Tucker, B.A., C.M.T.
The Tendonitis Expert
www.TendonitisExpert.com