Forearm and Biceps Pain When Lifting
Hi Joshua,


I keep getting pain on the inside of my forearm about 2 inches from the elbow joint.
I started to get some relief so I attempted to build the muscle both on my bicep, and on the forearm. But, the more I attempted curls for the bicep, the pain came back.
This has been going on for many months approximately 7 or 8 or more possibly.
I have also started to give myself friction massages on the area, which I think is the tendon??
But now the whole area is fairly sore. When is too much friction for a tendon? What is happening to me and what should I be doing?
It only causes pain when I use force on it. I am a musician as well too so I have to use my arms for repetitive movements.
Please, any help is appreciated.
Thanks.
----
Joshua Answers:
Hi there.
Friction massage, great. Also add in squeezing massage and static pressure on the biceps muscles.
This includes the biceps brachii, the brachialis, and the brachioradialis.
Check out the anatomy online, poke around and see if you can identify which is the primary problem. Generally, it's going to be the brachialis and/or the brachioradialis.
When you start hurting yourself from too much cross fiber friction, then it's time to back off.
So I need more information to determine whether you are suffering from
Tendonitis
or just from a Tendonitis dynamic (meaning with damage, or without damage).
See:
What Is Tendonitis?
1. What kind of muscician are you?
2. How bad is the pain?
3. One arm or both?
4. Pain anywhere else?
5. How old are you?
6. In general, what does your diet look like?
7. In general, what does your daily activity level look like?
8. Are you sore from the massage? Or sore from the chronic pain, or from working out?
Also, I would suggest that you start to Ice Massage as described on the
How To Reduce Inflammation
page.
----------------------
Please reply using the comment link below. Do not submit a new submission to answer/reply, it's too hard for me to find where it's supposed to go.

And, comments have a 3,000 character limit so you may have to comment twice.
-----------------------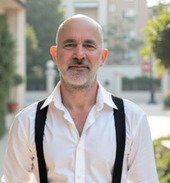 Joshua Tucker, B.A., C.M.T.
The Tendonitis Expert
www.TendonitisExpert.com