Is it safe for me to continue working at my job with my wrist tendonitis?
by Jason
Symptoms/Causes: I am a gamer. Gaming has been my primary hobby for a number of years. This winter, I was unemployed, and naturally, I spent a lot of time gaming. I felt the occasional pain in my wrists (both of them), and would take a day off, and I'd feel fine for a couple months...then a month...then a couple weeks...and then...a couple days off didn't take it away anymore.


When I first quit gaming, I would feel occasional tingling in my fingers, but mostly the pain was right in my wrist. The tingling faded very quickly. The pain in my wrist faded over time, and I would try using just a little bit of computer, and I discovered that even sending a short email (10-15 lines) could make the pain flare up for several days.
I talked to some other gamers who had pain in their wrists and did my own research online (although I didn't come across this site until now), and basically what I found was, rest it and it will eventually heal.
Since then, the pain has faded a good bit. I had gotten to the point where I would feel an occasional twinge in my wrist, but most of the time, I was pain-free, although I still avoided using the computer much.
Current Situation:
I applied to this summer job a number of months ago, thinking I would be healed by the time this job came up. After my first day on the job (which involves a lot of chopping vegetables, mixing dressings, carrying boxes, etc), the pain has flared up about as bad as it was when I first quit gaming 3 months ago, if not worse. I do not have any tingling in my fingers like I did when I first quit gaming, but I now have some pain in my right elbow as well as both of my wrists. The pain in my wrists I would rate as a 4-5 on a 10 point scale.
Questions:
I fear that if I try to take time off from my job at the beginning of the tourist season, I will be fired. Is it safe for
me to continue working my job if I start using the inflammation reduction treatment now? Am I going to cause irreversible damage if I don't quit or take time off?
If I pass off the harder jobs to somebody else and try to do relatively easier jobs (like working shifts that involve primarily assembling sandwiches and salads as opposed to chopping vegetables and scooping ice cream), do you think that this is enough to prevent me from further injury?
If I do the easier jobs for a few days and my pain starts to diminish, does this mean that my wrists are healing, or merely that I am not injuring them further?
----
Joshua Answers:
Hey Jason.
How'd that job go/how's it going?
1. Your description of the onset of this is the classic description of the acquisition of a
Tendonitis
dynamic.
See:
What Is Tendonitis?
That's the
Pain Causing Dynamic
at work.
It comes on over time, gets a little worse and a little more worse as your body starts losing the battle to keep everything happy.
2.
Rest
never has fixed tendonitis, and it never will. No amount of rest is going to help.
3. If you chop less will it help you avoid injury? That brings up a good question.
Do you -have- an injury? Or do you just have a very unhappy pain causing dynamic and lots of chronic
Process of Inflammation
.
4. First thing's first. You better learn
How To Reduce Inflammation
. This will lower pain levels. It's not a fix per se, but it's incredibly effective at doing what it's good at: reducing pain from inflammation while reducing the inflammation mechanic.
Give me an update, and we'll go from there.
----------------------
Please reply using the comment link below. Do not submit a new submission to answer/reply, it's too hard for me to find where it's supposed to go.

And, comments have a 3,000 character limit so you may have to comment twice.
-----------------------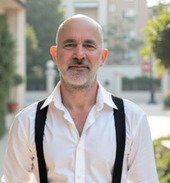 Joshua Tucker, B.A., C.M.T.
The Tendonitis Expert
www.TendonitisExpert.com