Knee Scooter Causing Knee Pain After Achilles Reattachment and Haglunds Removal
by Suzanne
(Bronx, New York)
I just had detachment/reattachment surgery of my Achilles tendon and removal of a Hagland's Deformity on March 20th. The surgery took about 1 1/2 hours. Despite having to have this surgery, the experience was great. The hospital, surgeon, nurses and staff were amazing! I have had this issue since my birthday, February 16, 2015. I slipped and fell on the ice coming out of my house. I hurt my foot and my back.


I have been going to doctor's for both issues, physical therapy, acupuncture, etc. etc. to no avail. Surgery was the only option for my foot, or be in pain for the rest of my life.
I had a popliteal nerve block before going under anesthesia. The nerve block definitely helped with pain after I came to, but I am still feeling the side effects of slight numbness in my leg/foot after 2 days. I did read online that it can last 2-3 days. Has anyone had experience with the nerve block? I will call the office tomorrow to let them know.
I am getting around my house with a knee scooter and crutches since I am NWB (non-weight bearing). My steps coming into my house on the day of the surgery were a challenge. I had to scoot up them on my butt. I am confined to the first floor and am sleeping on the couch. I cannot do the 15 steps going up to my bedroom or steps down to my basement.
The knee scooter is hurting my shin and knee. The faux fleece cover I bought doesn't help. I have 2 on and no difference in softness. I purchased memory foam and will cut to the length of the knee pad and place under the fleece covers. Hopefully that will work. I am using a throw pillow in the meantime, being careful I don't slide off.
My boyfriend was supposed to stay with me the first couple of days, but he wasn't able to. I have been alone since the evening of the surgery. I was nervous at first, but I am able to do basic things. Will have to wait for him to take a shower. I purchased a shower seat, but I don't want to do it for the first time alone.
I am elevating my foot as much as possible.I have been taking my pain meds every 4 hours for now. I want to keep ahead of the pain. I am also taking an antibiotic, asprin and nausea meds when I need. I am using Benefiber and a stool softener for a precaution. So far I haven't had an issue with constipation.
I have my first follow-up with my surgeon on Wed. March
28th. I am looking forward to seeing how the incision is healing. I think I will be put into a hard cast at that point and will still be NWB. I know this recovery is going to be long, but I am planning on being in the boot with partial weight bearing by the end of April.
My hands, arms, legs and butt are sore from pulling myself up. My back hurts as well, and I am trying to not do any further damage to it while I recover.
This is definitely a challenge for me, but I got this!
Please gives me tips and suggestions! I welcome them!
Suzanne
----
Joshua Answers:
Hi Suzanne.
More padding, sounds like, is the 'fix' for the knee scooter.
I wouldn't expect even a few layers of fleece to provide enough padding. But you're doing what there realistically is to do: Live and learn (and more importantly, put effort into figuring it out).
Ideally you should be able to rest your weight on it/on enough padding...might have to start calling it a workout and pushing off/holding more weight with your arms.
Again realistically, it's one of things you have to fiddle around with until you get it right. Does your knee scooter adjust up/down as well?
What did the office say about the lasting numbness? I presume they took a 'wait and see' approach.
Good news/bad news, messing with a nerve in nerve block fashion can leave lasting effect for a short while or a long while. You wrote this two days after surgery, and numbness lasting two days after a nerve block is WELL within the realm of what can be expected post surgery.
How are things now?
What have you been doing for self care, other than staying off the foot and patience? How's that been going?
SEE RELEVANT:
Achilles Tendon Rupture Complications After Surgery Numbness In Foot And Toes
SEE RELEVANT:
Achilles Tendonitis Surgery Two Years Ago Still Healing
SEE RELEVANT:
Haglund's Operation And Everything
----------------------
Please reply using the comment link below. Do not submit a new submission to answer/reply, it's too hard for me to find where it's supposed to go.

And, comments have a 3,000 character limit so you may have to comment twice.
-----------------------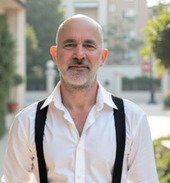 Joshua Tucker, B.A., C.M.T.
The Tendonitis Expert
www.TendonitisExpert.com