Achilles Tendonitis Surgery two years ago, still healing.
by Bill W.
(Oregon)
Looks like I'm the first story on here. Cool! 4 years ago I started having pain in my right Achilles Tendon, halfway between the calf and the heel. I'm a runner, so I didn't want to slow down or stop. I probably should have. 3 years ago the tendon pain got so bad I couldn't run more than half a mile, even when I took a long time to warm up.


I made myself rest for 6 months. I didn't run at all. I elevated my foot as much as I could, did upper body and upper leg strengthening at the gym, stretched my calves.
Ibuprofen and ice packs not as much as I should have.
At the end of the 6 months, I went for two short runs. The day after the end of the second run, my Achilles hurt just as bad as before!
No running was driving me crazy. I rested and tried to work back into running, thinking that it had to be healed and that I just needed to work back into it slowly. 6 months of that and it became clear it wasn't going to heal.
My doctor advised me to have surgery, so I did.
I don't know if I should have. It was another 6 months just to heal from the surgery. Now my Achilles is really tight.
It's so stiff when I wake up in the morning. It's stiff most of the day.
I can walk on it fine, but when I start to jog, it just feels so stiff that I know I should stop. I've been stretching taking it easy for the last
2 years after the surgery.
I will say though, it does hurt less than it did. And I've started hiking instead of running. It's good to do that with my kids. Happened for a reason I guess.
----
Joshua Answers:
Hi Bill.
The problem with
Rest
, as you've discovered, is that it A. doesn't work and B. wastes A LOT of time.
And while
Anti-inflammatory drugs like Ibuprofen
can be fine to get you through the day, they are also not a fix.
Ice packs, better than nothing but not ideal.
Surgery leaves things tighter for a variety of reasons, including the post-surgery immobilization and the shortening of the Achilles tendon (depending on the surgery).
On the upside, you get to hike with your kids now. The downside being, you can't run (or predictably pain etc will build up/return).
Tendonitis
is a dynamic. Its factors were in place and they are still in place.
See:
What Is Tendonitis
----------------------
Please reply using the comment link below. Do not submit a new submission to answer/reply, it's too hard for me to find where it's supposed to go.

And, comments have a 3,000 character limit so you may have to comment twice.
-----------------------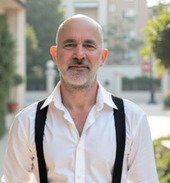 Joshua Tucker, B.A., C.M.T.
The Tendonitis Expert
www.TendonitisExpert.com