Achilles Tendon Rupture, complications after surgery, numbness in foot and toes
by Al Pellagrino
(Morganville, NJ)
Hi all, I'm 20 weeks post op. My surgery to repair a completely ruptured achilles was on March 12, 2012. I was in a cast for 2 weeks, then the stitches were removed. At that point I was placed in a boot for 8 weeks using crutches with no weight bearing. After a total of 8-10 weeks I began partial weight bearing still with crutches and therapy started at the 8 week mark.


After 12 weeks I got rid of the crutches and was walking with a slight limp.
At the 16 week mark is where I noticed no more limping except when I first wake up and take my first steps. Through all this I did't mention that I have numbness in the bottom of my foot that goes to the tips of my toes. It's driving me crazy! wearing shoes and even sneakers is uncomfortable.
I have weakness in my calf muscle which i'm attributing to the numbness. Things are not coming along the way I had hoped. I have followed all orders from Doctor and Therapist. Went to a neurologist yesterday for the numbness. Waiting for results of an EMG test. This is really getting to me. Doctors and Therapist all say this is normal. Recovery can take up to a year.
This is very hard to accept when it does not feel any better day to day. I can only compare how I feel, month to month. This is a long process but I'm afraid the numbness may not come back. Is there anyone out there that had this similar situation and then got better? please respond.
----
Joshua Answers:
Hi Al.
Achilles Tendon Rupture
is a far cry worse than
Achilles Tendonitis
.
But Tendonitis is a -dynamic- made
up of multiple factors, some of which create the rupture scenario.
All those factors are still in place after Achilles Tendon Surgery.
So a year for recovery is unfortunately, incredibly common. And that's not even for 'back to 100% recovery'.
Plus, you have some kind of nerve issue. You're either very nutritionally deficient (likely and entirely possible), or the already tight muscles got tighter and are compressing a nerve (possible and incredibly likely), or worst case scenario, the surgery nicked or cut or severed a nerve or two (let's hope not).
A nicked or cut nerve is going to cause long term problems.
Tight muscles compressing nerve will continue to compress nerve until you make the tight muscles not tight.
Nerve issue from nutritional insufficiency/deficiency will continue to cause nerve issue until you increase how much your body has access to.
Is time and
Rest
going to fix this? Maybe. Unlikely.
Are you doing anything to combat the
Process of Inflammation
that's active in there?
Are you supplementing nutritionally at all?
See:
Pain Causing Dynamic
See:
Magnesium For Tendonitis
----------------------
Please reply using the comment link below. Do not submit a new submission to answer/reply, it's too hard for me to find where it's supposed to go.

And, comments have a 3,000 character limit so you may have to comment twice.
-----------------------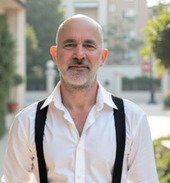 Joshua Tucker, B.A., C.M.T.
The Tendonitis Expert
www.TendonitisExpert.com