Tendonitis of the butt????
by Vicki
I have pain in my buttocks.


The pain is in two places. Across the widest part of the buttocks down the middle, and then in the lower part, about where the leg attaches.
The pain is the same on each side. I had this pain previously, and it lasted for several months.
I sat on pillows and did a lot of standing as I recall. There is no pain on standing, but any bending or sitting type movement is painful. The previous episode eventually went away, but now that it has returned, I want to find out what it is and how to deal with it.
I am an active individual and work out several times a week in cardio classes, which includes kick boxing and toning.
I would appreciate any insight you can provide on this condition, and any suggestions on how to prevent and/or improve it.
Vicki
----
Joshua Answers:
Hi Vicki.
Anywhere that there is a muscle, there is tendon. Anywhere there is muscle and tendon, there is the possibility of
Tendonitis
.
Could also be a ligament issue, if something in your pelvis is out of whack.
So, I'm thinking piriformis muscle. Could have tendonitis of 1 or more of the glutes muscles. Could be your hamstrings are too tight, pulling/tilting your pelvis down, and disrupting happy patterns of the rest of the butt.
Could be, but probably isn't tight Psoas muscle(s) tiling the pelvis one way or the other and again making things unhappy.
At this point, I recommend that you get on Google and start looking for anatomy pictures. Terms like 'ligaments of the pelvis', 'glutes anatomy', 'glutes tendons', 'piriformis anatomy', etc.
Do some research and see if you can self identify what exactly might be going on in there.
Then, we can do some self massage,
and/or have you find the right professional that can deal with this.
Pelvis stuff can be tricky. It's either a straightforward tendonitis issue, or it's pain related to a muscle/structural imbalance.
It could be possible I guess that it's disc related. Do you have any pain down your leg, shooting pain, numbness anywhere? Doesn't really sound like it so far, just covering my bases.
And it makes sense that there's no pain when standing, in that the glutes and hamsrings are in a shortened position when standing, but lengthen and are likely thinking that they are getting overstretched when sitting.
I will also suggest that you supplement with magnesium, more on that shortly.
Questions:
1. How long has this been going on?
2. Did something specific start it, or did it just start coming on over time?
3. Pain anywhere else?
4. Any shooting pain or numbness down the leg/foot?
5. Does stretching help? Have you been stretching it at all?
----------------------
Please reply using the comment link below. Do not submit a new submission to answer/reply, it's too hard for me to find where it's supposed to go.

And, comments have a 3,000 character limit so you may have to comment twice.
-----------------------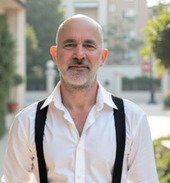 Joshua Tucker, B.A., C.M.T.
The Tendonitis Expert
www.TendonitisExpert.com