wrist pain but no swelling
by lisa
(lake forest ca)
Hello, i have been experiencing pain in my right wrist, on the inside, below my thumb for about 2 weeks. i am not quite sure what i did to it. i do work out 5 days a week, and train with weights, this has been my routine for over 15 years so i thnk my bones are pretty strong?


but i think i may have strained or maybe sprained it? but i have not had any swelling, or bruising, or bumps, the vein on the side of my wrist swells a bit occasionally.
i have iced it, i have been wearing a wrist brace for a few days now , which helps. but it still hurts.
i,m trying to just wait it out for a few weeks and not go to the dr. what do you think it could be considering the absence of swelling, etc
thanks
lisa
----
Joshua Answers:
Hi Lisa.
You don't have to have swelling to have a
Process of Inflammation
.
You can have pain, even debilitating pain, without injury, without swelling, etc. Then again, you can have injury and pain and no swelling WITH injury.
Having said that, it's unlikely that
Wrist splints and braces
are going
to fix anything.
So I don't know what it could be, let's find out.
1. Do you think that it's
Dequervains Tendonitis
?
2. Do you think that it's
Wrist Tendonitis
?
3. Did you do anything that would have strained or sprained it?
4. How heavy do you lift?
5. How's your nutritional/caloric intake?
6. History of pain or injury?
7. Overall health?
8. What's your Vitamin D level?
9. How exactly have you iced it?
10. Describe the pain. Details details details.
11. Anything else relevant or interesting?
----------------------
Please reply using the comment link below. Do not submit a new submission to answer/reply, it's too hard for me to find where it's supposed to go.

And, comments have a 3,000 character limit so you may have to comment twice.
-----------------------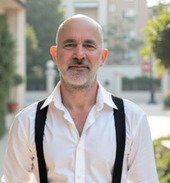 Joshua Tucker, B.A., C.M.T.
The Tendonitis Expert
www.TendonitisExpert.com