Chronic Shoulder Tendonitis, Wrist Tendonitis, All Over Tendonitis In Active Outdoorsman
by Kevin
(Covington GA)
Hi I found your page and am desperate for help.


I suffer from tendonitis in both shoulders, left wrist, left knee, right ankle .
I'm very active, I ride mountain bikes, water ski, and shoot traditional archery tournaments.
I have ALWAYS had trouble with tendonitis even when I was younger.
I refuse to to accept what modern medicine tells me ......." Your getting older so you will have to just accept it. "..... Here take this pill or injection and you will feel better until the next pill or injection."
I just feel like my body is missing something. I will tell you I'm very leery of some homeopathic cures, but am willing to try anything at this point.
Thanks for your time.
----
Joshua Answers:
Hi Kevin.
I agree with you about the doctor thing....rock on.
I think your sense that something is missing is correct. The question is, what.
You shouldn't just be getting
Tendonitis
all over. I don't think you need a 'cure'. I think you need to give your body what it's missing.
I could ask you a bunch of questions, and I will, but start with this.
1. Increase your protein intake. A LOT.
2. Along those lines, start making
Bone Broth as the best Tendon Supplements
a daily part of your life.
3. Start taking your tolerance level of
Magnesium.
Read that page, and follow the
Magnesium Dosage
link at the bottom of that page.
You may want to experiment with
Magnesium Oil
for pain relief in the short term. That link
sends you to the best/cheapest source I've found.
4. Get your Vitamin D levels checked. Yeah yeah, you water ski and mountain bike, etc. Get your Vitamin D levels checked.
The above is probably what I would say regardless of my questions/your answers. Still, answer the following questions just to see what else we can see.
1. Age.
2. Overall health, now and historically. Any health issues?
3. How's your digestion? Energy levels?
4. Say more about how you've always had a problem with tendonitis. What does that mean, exactly.
5. A description of your dietary habits.
6. Describe your pain. Constant, only when active, only after activity, etc.
Let's start there.
More questions, more answers.
----------------------
Please reply using the comment link below. Do not submit a new submission to answer/reply, it's too hard for me to find where it's supposed to go.

And, comments have a 3,000 character limit so you may have to comment twice.
-----------------------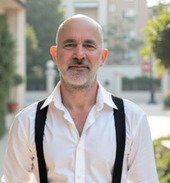 Joshua Tucker, B.A., C.M.T.
The Tendonitis Expert
www.TendonitisExpert.com