Nerve Conduction Test, It's not that bad
by Karen Taylor
(Salisbury, MD)
I had to go for a nerve conduction test. So before I went I read up on how it was done and the pain level that was expected. The stories I read were horrible so I was scared to death. Just to let you know I hate pain and will run from it if at all possible.
Once I went for the test they explained what was going to happen and what to expect I was still sceptical.
Once it was over I had to admit that it was not bad at all. The "shocks" felt like the shocks you get when you touch your car in the winter and get a shock just a little stronger. Nothing that was unbearable.
The "needles" they stick you with don't hurt. I knew that I was stuck but it wasn't bad. The only problem I had was about an hour after the test I got a headache that didn't go away until I went to bed and got up the next morning.
But if that's all the pain I had I could deal with that.
Where they stuck me with the needles I had bruising 2 of the three spots but not pain. The only pain I had through and after the test in my hand was what I already had.
If I had to go through the
test again for some reason would I? Yes!!!!
If you asked me that before I went for the test I would probably told you no I'll do this one but never again. After going through it it was nothing. I would do it again if I had to.
----
Joshua Answers:
Thanks for sharing Karen.
It's certainly not horrible for everyone, and thanks for describing your experience so well so others can see the range of what they have to expect.
----------------------
Please reply using the comment link below. Do not submit a new submission to answer/reply, it's too hard for me to find where it's supposed to go.

And, comments have a 3,000 character limit so you may have to comment twice.
-----------------------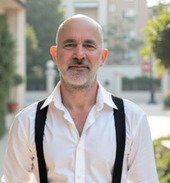 Joshua Tucker, B.A., C.M.T.
The Tendonitis Expert
www.TendonitisExpert.com