Tendonitis Pain In Right Hand, Wrist, Top Of Hand, Knuckles, Fingers, and Forearm
by Jay L.
(Calgary, Canada)
I have had the electro tests on my nerves and they do not believe I have carpal tunnel. The doctor there told me it is more likely to be tendonitis. Does this make sense? All the sites I have researched do not show tendinitis causing pain through the hand and knuckles.


----
Joshua Answers:
Hi Jay.
It's true, most sources don't think of
Tendonitis
as anything other that a very site specific injury or source of pain.
Unfortunately, that's just now how the body works. The body does not work in isolation. Everything is connected. Everything responds and compensates and shifts to each and every tiny change.
It's also useful to notice that you doctor has no idea what is causing your pain.
You could have
Carpal Tunnel Syndrome
and have just fine results from the nerve conduction testing.
Carpal Tunnel Syndrome, which is nothing but a label for a set of symptoms, can be VERY similar to
Wrist Tendonitis
.
If you have a
Pain Causing Dynamic
, whether it's mild or acute, you can have all sorts of pain throughout the area.
Tell me more about your symptoms, your activities, the history of this, etc, in as much detail as possible, and I'll have a better idea of what's going on.
----------------------
Please reply using the comment link below. Do not submit a new submission to answer/reply, it's too hard for me to find where it's supposed to go.

And, comments have a 3,000 character limit so you may have to comment twice.
-----------------------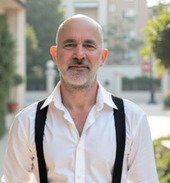 Joshua Tucker, B.A., C.M.T.
The Tendonitis Expert
www.TendonitisExpert.com