Tennis Elbow Healing
Do It RIGHT The First Time
If you are interested in your Tennis Elbow healing in the best way possible, I am interested in working with you.
If you just want to decrease Tennis Elbow symptoms a little bit so you can continue to suffer, there are a lot of other great options for that out there in books and on the internet.
If you want to heal Tennis Elbow completely, and if you want to learn how to make the pain go away and stay away, you may want to find and use the RIGHT tools.
The wrong tools just -are not- going to do what you want them to do.

Do You Worry About Your Tennis Elbow Getting Worse?
Maybe you've just had Tennis Elbow pain for a month or two.
Maybe you've had it for years.
It usually works like this:
You have some ache and pain, then it goes away. Then it comes back.
Then it gets a little worse, but goes away a few times. But each time it gets a little worse, and a little longer. And the pain free times in between get shorter and shorter.
Eventually a person admits to themselves that the problem just isn't going to go away like they think it should.
And then they try all the usual methods...
Like Anti-Inflammatory meds and rest.
They go see a doctor who tells them to rest some more, to wear a splint or brace, maybe gives them a corticosteroid injection or three. And when these fail to work, surgery is next in line.
I don't know where you are in that process, but if you want to make your pain go away, and learn how to keep it away, I suggest that you get The Tennis Elbow Treatment That Works DVD and Quick Start Companion ebook that comes with it.
Doctors will never give you your money back if you aren't happy with what they recommend. Each of my DVDs comes with a money back, satisfaction guaranteed guarantee.
If you are looking for an answer to your pain, a total fix for your Tennis Elbow, I Have It For You Right Here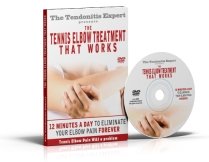 Just $44.97
Price includes tax + S&H
Shipped within 48 hours
Secure transaction
Money Back Guarantee!
I'm very interested to hear about your results.
How Do You Cause The
Best Tennis Elbow Healing?
Tennis Elbow healing requires that you do 3 things:
You MUST reduce then end the Inflammation Process.
You MUST reverse the Pain Causing Dynamic.
You MUST make all the tight muscles and connective tissue become soft and relaxed.

All the usual methods of treating Tennis Elbow almost always fail to work because they don't address all three factors. And they really don't address the parts they do target enough to actually do as much good as you want them to.
The best Tennis Elbow healing methods affect all 3 factors to some degree. The more they effect each three factor, the better.
Magnesium, for instance, isn't the only necessary nutrient, but it's a VERY important player.  See:  Magnesium For Tendonitis
And you should definitely learn How To Reduce Inflammation.
As an all in one source of how-to info to get rid of Tennis Elbow, The Tennis Elbow Treatment That Works DVD specifically targets each to the 3 factors. If you follow my suggestions exactly as I suggest that you follow them, you WILL get the results that your want.
So you can either go the usual route of wasting time, money, effort, and suffering on methods that are doomed to fail, or you get get THE TREATMENT THAT WORKS.

For Tennis Elbow healing, I will put my protocol up against anything else that's out there.
If you try it and do what it says, I promise that you will get results, including your Tennis Elbow healing as much as you want it to.
Compare the information that you find on this site and my DVDs with everything else that's out there.  And you'll see why what your doctor and your PT and your Chiropractor told you to do didn't work.
Return to the top of this Tennis Elbow Healing page.
Go to the main Tennis Elbow page.
Go to the main Tendonitis page.
Go to the TendonitisExpert.com homepage.