Thumb Tendonitis or Thumb Tenosynovitis? Shooting Pain In The Thumb
by Mark
(Santa Ana, CA)
I have a shooting pain in my thumb when I do certain activities involving grabbing something. There is no swelling or pain under normal movement but when I stretch the thumb or use it to grab the dog leash for instance, I get a severe shooting pain radiating from the base to the tip.


Do I need to see my doctor or a specialist?
Thanks,
Mark
----
Joshua Answers:
Hey Mark.
Well, I've never ever told someone they shouldn't see doctor.
There could be all sorts of weird, rare medical issues causing that.
Still, chances are good that you have some thumb specific
Tendonitis
or
Tenosynovitis
.
See:
What Is Tendonitis?
Meaning, you have too tight muscles, connective tissue that is shrink wrapping down, and a
Process of Inflammation
that creates pain and more tightness.
Heeeellllllooooo
Pain Causing Dynamic
!
So, let's investigate. Questions:
1. Describe the pain, in as great a detail as possible. Just in the thumb? Up the arm? Wrist? Hand? General pain, or could you clearly identify a sharp time.
2. What do you do with your hands all day long? Computer? Musician? Video games? Lots of texting on the cell phone?
3. Other thumb is fine?
4. History of injury or
pain?
5. Age?
6. Is there a specific direction of movement that hurts it, but others don't, or do many kinds/angles/directions of movement. Pushing, pulling, thumbs up, pushing against a wall with the thumb in various ways, etc.
7. If you poke around the area, is there a hot spot? Are the muscles in the forearm, thumbpad, etc, sore, painful, or tight? I'm guessing that there is a line of muscle in your thumb pad that is PAINFUL if you press on it.
Answer those questions, and let's go from there.
----------------------
Please reply using the comment link below. Do not submit a new submission to answer/reply, it's too hard for me to find where it's supposed to go.

And, comments have a 3,000 character limit so you may have to comment twice.
-----------------------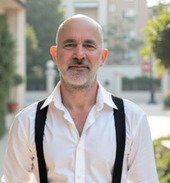 Joshua Tucker, B.A., C.M.T.
The Tendonitis Expert
www.TendonitisExpert.com