Is it possible to correct Flexor Hallucis Longus Tendonitis and if so how?
by Shawna
I joined the military with no foot problem that I was aware of.


I was required to run many times every day for 6 weeks. I not only ran "accidently" in sneakers for flat footed people but also in combat boots.
I have very high arches. I'm 23 and no history of injuries. It is occuring in both of my feet. I've been tossed from doctor, to doctor, to physical therapist, to podiatrists, to some more doctors and back in physical therapy.
The podiatrist seemed to be the only one with a clue and then I PCS'd to another base.
I have custom made insoles to support the arch.
The doctors first believed it was plantar fasciitis and once the podiatrist said Flexor Hallucis Longus tendonitis they agreed with him.
I've had the extremely painful shots into the tendon protruding from the bottom of my arch.
I've had little electrical pads stuck to the bottom of the arches with constant low charges. I've had massage therapy. I've done different stretches. I've had ice(very painful). I've also had heat. The heat and massaging felt pretty good but it was just temporary relief. The cold even just weather seems to tighten the tendon and make it very stiff and painful.
I now have running shoes for high arches but it is still painful to run and my feet hurt for days after. I cannot wear my insoles in my running shoes because the pain becomes almost unbearable.
The insoles in my boots don't seem to be doing a whole lot. They were made for support of my arches not comfort.
My most recent doctor suggested memory foam insoles and to just discard my support insoles.
The physical therapist said the other insoles weren't working so try soft ones.
I have heard there is debate on long term and short term effects of soft insoles. Is there some kind of treatment I can mention to the doctor or physical therapist or stretches that will make a difference or maybe just some insoles you can suggest?
I'm desperate. They are putting me through physical therapy one more time then they are going to discharge me medically if I don't show improvement.
I don't know if I left anything out.
Please let me know if you need more information or if you
can suggest anything.
Thank you-- Shawna
----
Joshua Answers:
Hi Shawna.
The quick answer to 'how' did you get this tendonitis is...'you suddenly started running everyday, multiple times, in flat shoes and combat boots'.
Lots of other variables, of course, but that seems like the obvious, general on. But you knew that.
I'm not going to investigate the direction too far.
The other quick answer is 'Yes, it is possible to correct Flexor Hallucis Longus Tendonitis.
Tendonitis
is the Tendonitis Dynamic, no matter where exactly the pain shows up
See:
What Is Tendonitis?
I'm going to go with what the podiatrist said. Flexor Hallucis Longus until I see/hear otherwise..
Soft inserts, hard inserts, I don't know. I've never really heard much great about them. Granted, I mostly only work with people that everything else has failed them.
The one line you said of built for support and not comfort....that seems like a bad idea. The body does not like discomfort or pain.
Thanks for all the details by the way. Details GOOD.
Not surprised by anything about the rest, doctors and PT and such. Hopefully the new PT you get will be able to get better results and do things differently than you've experienced.
Questions:
1. Describe the massage you received for this. Where did they work, how did they work, etc. Details.
2. What about icing was painful? How did you ice, exactly. How did it hurt?
3. Describe the pain. Where exactly. When exactly (ie, only when you're on them, even when your off them, at night in bed, etc)
Answer the above, and we'll go from there.
----------------------
Please reply using the comment link below. Do not submit a new submission to answer/reply, it's too hard for me to find where it's supposed to go.

And, comments have a 3,000 character limit so you may have to comment twice.
-----------------------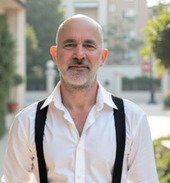 Joshua Tucker, B.A., C.M.T.
The Tendonitis Expert
www.TendonitisExpert.com