Playing clarinet with wrist tendonitis or thumb tendonitis
by Rebecca
(Chicago, IL, US)
I am a senior in highschool and play clarinet in the band.
I've been playing it for, well... a really long time.
I believe I have wrist tendonitis (haven't had it diagnosed, but my symptoms match the description).
I first noticed an issue last year when I picked my clarinet up before school started, after a long summer's rest. I played a long time and noticed a slight pain at the very base of my thumb, with a slight jab when I stopped, which then went away.
I thought nothing of it, until our Christmas concert was approaching and I was practicing a lot, which brought the ache back. Then, a day or two before the concert we played badminton in gym (Bad. Bad bad bad. No doubt I wasn't playing properly). I couldn't hold up my clarinet. The pressure of the thumbrest both hurt and caused my thumb to shake uncontrollably.
After that the problem seemed to disappear except for an occasional spasm along my thumb and wrist when I play for a long period of time.
The weakness surfaced again only once, right before a competition (though that I got through fine- I have a feeling it had as much to do with nerves as the tendonitis).
However, this year I have noticed that same spasm, which again happens as soon as I remove the pressure from the thumbrest, shoots once, and is gone, and generally after prolonged playing.
It is nowhere near as bad, but I don't want the problem I had last year coming back.
So I guess the questions would be these:
First, that this really is tendonitis and not something else. The pain originates from where my thumb connects with my wrist, and I seem to have the other symptoms... but I may very well be wrong.
Second, I know I need to try that bone broth thing, but what else can I do to alleviate/ reverse this? Should I try doing things with my thumbrest?
I do have something to improve my finger and wrist strength, but when and how often should
I use it? (whether or not it helps this- I need to improve that anyway)
----
Joshua Answers:
Hi Rebecca.
1. Do you think that you have Wrist Tendonitis, or Thumb Tendonitis?
2. Do you have pain in your wrist, or just pain at the base of your thumb? Or is it at your wrist under your thumb?
3. Describe the symptoms in more detail, please.
Answer those questions to give me a better idea of what's going on.
I don't know if you have
Tendonitis
, but you definitely have a tendonitis dynamic.
Meaning, muscles that are getting tighter, connective tissue that is getting more constrictive,
Process of Inflammation
, and a nervous system that is freaking out about it and going overboard trying to protect you....with more tightness and pain sensation.
Probably we just need to deal with the inflammation and spasm. I bet you're just in a dynamic where the nervous system is going bonkers and -thinks- that you are getting hurt. This is consistent with spasm and shooting pain.
Probably we'll look at some
Magnesium
supplementation, and do get a crock pot and get some
Bone Broth
going.
My main curiosity is what exactly is going on with the pain. Constant, or more shooting and then is gone?
(Also, you're under 18, so please make sure you have a parent type take a look at this.)
Joshua Answers:----------------------
Please reply using the comment link below. Do not submit a new submission to answer/reply, it's too hard for me to find where it's supposed to go.

And, comments have a 3,000 character limit so you may have to comment twice.
-----------------------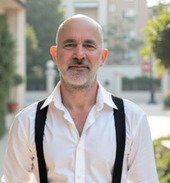 Joshua Tucker, B.A., C.M.T.
The Tendonitis Expert
www.TendonitisExpert.com