Shin Splints to Plantar Fasciitis, why, from avid Ultimate Frisbee player
by Peter
Joshua, I love your site and am icing as I write to you in a big trashcan of ice water!
I have many questions but will not ask them all at once.
Q1:
"I iced away my shin splints (I am avid 2x / wk Ultimate Frisbee player) but now I have planter fasciitis?
I am icing that now and may need your DVD but am curious why you think it suddenly translated down from shins to feet?"
----
Joshua Answers:
Hey Peter.
Rock on on the Trashcan Icing! Awesome. I'd love a picture of that!
Why did it translate down? Good question?
Here's some options each standing alone and not in order.
1. Foot/feet were already hurting, and in an attempt to protect you, the body made certain compensations to movement/stabilization/muscles firing that made you get the shin splints symptoms.
2. Due to the changes that happened with shin splints coming and going, the feet are now doing something different that has them hurting.
3. There has been a planter fasciitis dynamic coming on for a long time, and it's just coincidental that it's now starting to hurt.
4. You got new shoes, or run differently, jumped off some stairs or some such, and that made muscles in the foot sore,
which set off a
Pain Causing Dynamic
.
5. Maybe you have some
Tendonitis
in the foot, maybe -just- the symptoms of
Plantar Fasciitis
without any wear and tear damage but just the effects of
Process of Inflammation
As you can see, there are a variety of options, and variables.
Often times it's a mystery, and, we can gather clues and come to the best conclusions.
More questions!
----------------------
Please reply using the comment link below. Do not submit a new submission to answer/reply, it's too hard for me to find where it's supposed to go.

And, comments have a 3,000 character limit so you may have to comment twice.
-----------------------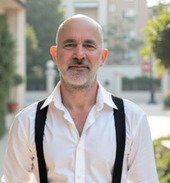 Joshua Tucker, B.A., C.M.T.
The Tendonitis Expert
www.TendonitisExpert.com