Where to start with all over tendonitis wrists, elbows, shoulder
by Jeanine
(Sydney, Australia)
Hi, I am a 32 year old female and I have had wrist tendinitis on and off for over a decade, I usually put my wrist in a brace and it goes away.


Over two months ago I suddenly found myself with wrist tendinitis and both shoulders, both elbows, both thumbs and one Achilles. My shoulders resolved after about three weeks and have only vaguely returned.
The thumbs come and go, but the elbows and wrist have been constant. I can lie in bed doing nothing and feel my Achilles ache. I have been working quite a bit but now even wearing the brace doesn't help, so I have taken a few days off but it's hard not to use my hands and legs.
My doctor told me to stretch but I find that too painful. He also doesnt want me to use painkillers due to a digestive condition. I find I can't tolerate icing the painful areas or much massage.
My bloods were excellent and I have taken a magnesium and multivitamin supplement for months. What should I do first? Concentrate on the most painful? Do I need to quit my job?
----
Joshua Answers:
Hi Jeanine.
1.
Why can't you tolerate icing? Say more about that.
2. Why can't you tolerate massage? Say more about that.
3. How much magnesium are you taking?
4. What's your Vitamin D level?
Changing your understanding a little bit:
The tendonitis never went away, just the pain did. The mechanism is progressive. Muscles get a little tighter, connective tissue shrinkwraps a little tighter, more nutrition gets used up, circulation decreases, etc. Repeat.
If your
Symptoms of Tendonitis
spread from wrist to all over the body, basically, then you're definitely looking at nutritional issues.
See:
Magnesium for Tendonitis
See:
What Is Tendonitis
See:
Pain Causing Dynamic
Answer the above questions, and follow/read the above links, and we'll go from there.
----------------------
Please reply using the comment link below. Do not submit a new submission to answer/reply, it's too hard for me to find where it's supposed to go.

And, comments have a 3,000 character limit so you may have to comment twice.
-----------------------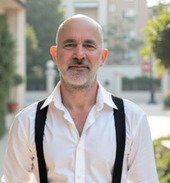 Joshua Tucker, B.A., C.M.T.
The Tendonitis Expert
www.TendonitisExpert.com